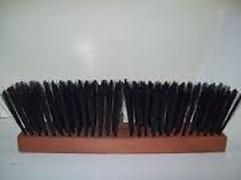 Proper cleaning must take place in order to prepare the asphalt for sealing. When dirt and debris builds up in low spots or where chemicals have dripped onto your blacktop. We use wire brushes or power brooms with heavy wire heads will properly break up this debris helping to ensure your project looks fantastic!
---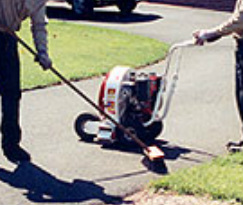 In addition to the wire brooms we also use commercial blowers to remove all dirt and debris from the areas to be sealed. This insures all areas to be sealed will be free of moister and debris. Smaller blowers are used in tight areas or in areas where blowing dirt and debris may be of concern. The proper equipment operated by experienced people.
---
Sealcoat will first be VERY carefully applied by hand using a brush around all edges of concrete, landscaping , or home foundations. NO sealcoat on where we don't want it ! Once handwork is completed the following application processes can take place.
---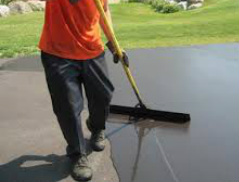 After the edging is complete smaller areas will be finished with a sealcoat broom by hand. Hand applications can easily look sloppy if not completed with the proper techniques. This is were the 20 years of experience come in to play. We think the finished look is important and we think you do as well. Its important to us to use the correct application for your investment.
---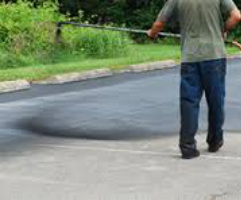 Larger areas will be spayed giving the lot or driveway a brushless clean look.
---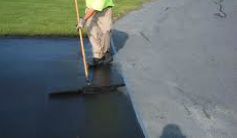 Using the proper techniques at the end of the driveway or parking lot is important to leaving a crisp clean line.


---

Once the project is complete the area will be blocked off with caution tape or ribbon for 24 to 48 hrs after install. This will allow for proper dry and cure times. Areas to be sealcoated can also be completed in two parts if traffic needs to remain moving so your business does not lose customers by closing for the day.
---
Contact us today for a FREE estimate.
715-563-3908